Beneath Arctic ice pack, teeming life holds extraterrestrial clues
Microscopic organisms thrive in polar-ice 'brine channels' whose conditions mirror some of those found in space.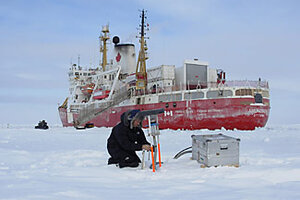 George Tombs
In the Beaufort Sea in the northwest Canadian Arctic, the sun rose Jan. 23 after a long polar night of round-the-clock darkness that had begun in late November. At this latitude (71 degrees north), the sun will be shining 24 hours a day by mid-May. With the wind blowing at more than 20 m.p.h. it feels like 53 degrees below zero F.
The bright-red bow of the 320-foot Canadian Coast Guard research icebreaker Amundsen looms above the frozen sea. While armed crewmembers stand on guard nearby, ready to fire a warning shot in case we encounter marauding polar bears, scientists snowmobile around on the three-to-15-foot-thick ice surface collecting ice and snow samples.
"It turns out the sea ice of the Canadian Arctic is not that dead after all," says Jody Deming, an astrobiologist from the University of Washington in Seattle and chief scientist on one of several three-week legs of the Amundsen's year-long Circumpolar Flaw Lead Project.
---