Empty oceans, Part 1: Endless no more
Technology has bested seas' bounty, now fishermen adjust to a sea change.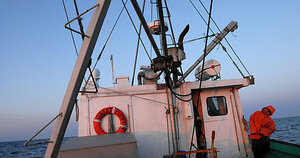 Mary Knox Merrill – Staff
On a chilly spring morning, Jan Margeson steers his orange-hulled boat, the aptly named Great Pumpkin, into the predawn darkness using radar. Parallel green splotches on a screen indicate the banks of the narrow channel leading out of Saquatucket Harbor to Nantucket Sound. Once in open water, he enters coordinates into a plotter – eight miles due south of Hyannis – and, oriented by GPS satellites, the boat steers itself.
Mr. Margeson has reoutfitted the 41-foot Pumpkin, originally a Nova Scotian lobster boat, for clamming. Margeson, who's been fishing these waters for 30 years, would rather be fishing for cod. But since stocks of cod crashed in the 1990s, that once-plentiful fish hasn't recovered. Fishing is now so restricted – only 39 days are allowed this year, monitored via shipboard transmitters – that earning a living solely on cod or other bottom-dwelling fish is difficult. So while he waits for cod to rebound and restrictions to relax, he makes ends meet with clams, or quahogs (KWOH-hogs), as they're known in the Northeast. "It will help me survive and catch more fish," he says.
New England fishermen find themselves at a critical transition. Federal law mandates that overfishing end by 2010. With restrictions on fishing tight and no relaxation in sight, many fishermen are selling their permits and getting out. Others are buying them up, to be in good position if and when stocks rebound. The stock crashes have also inspired considerable introspection. Where 25 years ago, fishermen likely espoused an "endless bounty" view of the sea, today they talk about ecosystem health and stress sustainable fishing practices. They're increasingly concocting – and pushing for – what they say are both fish- and fisherman-friendly solutions. The hunters now emphasize environmental stewardship. Ecological collapse has triggered a cultural shift among fishermen, whom some call "New England's other endangered charismatic megafauna."
---
Subscribe to Recharge
Get the Monitor stories you care about delivered to your inbox.