Alaska's 'golden goose' is a fish
By branding its wild salmon as gourmet – and banning salmon farms – this fishery is thriving sustainably.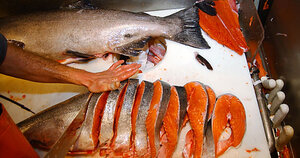 (AP Photo/Elaine Thompson/FILE)
From this picture-perfect Alaska setting of shimmering waters, snowcapped peaks, wild animals, and millions of migrating shorebirds come some of the most prized salmon in the world. The late-spring arrival of sockeye and Chinook salmon into the mouth of the Copper River is eagerly anticipated by chefs and gourmets around the nation and greeted with retail prices as high as $40 a pound.
In a world where natural salmon runs have nearly vanished and even for Alaska, where wild salmon runs are healthy and bountiful but swimming against a rising tide of cheap farmed fish, the Copper River harvest shines. It illustrates how fishermen can thrive by getting the most value out of each fish instead of chasing after huge catches. For all that, credit several strokes of good fortune and many years of savvy marketing.
The Copper River run comes early, producing the first wild salmon to the market each summer. The fish are intrinsically better tasting, their dark red meat packed with the larger amount of oil needed for the extra-long migration from the ocean up the 300-mile river. A local airport can easily handle daily cargo-jet traffic. And fishermen, processors, and middlemen have invested several years in marketing the product and zealously guarding the Copper River brand name.
"A lot of people will point to the Copper River model and the marketing, but the reality is we're just lucky," says Jeff Bailey, co-owner of Prime Select Seafoods, a small dockside processor that has worked hard to cultivate a devoted customer base. Prime Select ships salmon to specialty grocery stores and even to customers' homes within 24 hours of harvest.
The natural setting doesn't hurt.
---