Alaska fishing: the merits and costs of a tamed frontier
The Bering Sea is no longer 'wild and free.' Who's left out?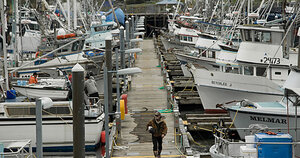 Nathaniel Wilder
Gobble a fast-food fish sandwich, snack on fish sticks, or savor a fancy white-tablecloth seafood dinner and chances are you're sampling the fruits of what experts say are the nation's best-managed commercial fishing grounds. While fisheries are collapsing around the world, stocks are strong in the waters off Alaska, source of half the seafood commercially harvested in the nation. Pollock, halibut, Pacific cod, and sablefish taken from these northern waters bear the Marine Stewardship Council's seal of approval lauding the cautious oversight of federal fisheries managers. So do the harvests of Alaska's five species of salmon, which are caught in state waters and managed under a separate state system; they were the first to be classified by the international watchdog group as "sustainable."
Those who manage fisheries in Alaska's federal waters – the Anchorage-based North Pacific Fishery Management Council and associated federal agencies – are generally credited by outsiders for doing a good job. "We have a lot of respect for them," says George Geiger, chairman of the Florida-based South Atlantic Fishery Management Council, who was visiting his Alaska counterparts at work at a week-long meeting in Kodiak earlier this month.
---