Midocean trawlers mine world's seamounts
Unregulated fishing fleets work fast and deep, but rising cost of fuel may rein them in before laws do.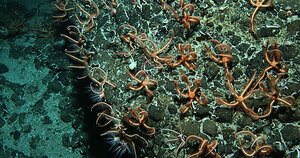 REUTERS/New Zealand's National Institute of Water & Atmospheric Research (NIWA) Copyright 2008/Handout/FILE
In the mid-1970s, fishing boats came across great aggregations of a reddish fish around underwater mountains, called seamounts, near New Zealand, a kilometer deep. A century before, fishermen had discovered the same species in the northeast Atlantic. But never had anyone encountered schools this dense. Characterized by a blunt face lined with mucosal glands, the fish wasn't exactly handsome. But its flesh, which tasted vaguely of shrimp, was white, firm, and delicate. The only problem: the name. The fish was called "slimehead." So "some smart marketer," in the words of one expert, rechristened it "orange roughy." And a new high-end fishery was born.
For many, it was evidence of a worrisome new trend. Enabled by improved technology, fishing fleets were going farther and deeper than ever before. By the mid-1980s, they had converged on seamounts the world over, seeking deep-water species like orange roughy and Patagonian toothfish (marketed as "Chilean sea bass"). They were now trawling places that, by virtue of their depth and rough topography, were previously off-limits. Many characterize what followed – and continues to occur – as akin to strip-mining: Catch everything as quickly as possible and then move on. Scientists worry that these deep-sea ecosystems populated by long-lived organisms can't withstand the fishing pressure. But there's little recourse: Many of the estimated 30,000 seamounts worldwide lie outside national jurisdiction, and the high seas remain unregulated.
Conservationists have long lobbied for regulating international waters. In recent years, the effort has borne fruit in the form of nonbinding agreements. But some, doubting the efficacy of nonenforceable pacts, think high fuel costs are the high seas' best hope. When it's too costly to fish the mid-Pacific, fishing vessels won't go there. But for now, as seamount trawling continues in much of the world, scientists fret that these unique ecosystems may disappear before they can find out what's there.
---