Needed: Underwater 'national parks'
Set-asides can restore ocean balance and diversity – but all stakeholders must buy into them.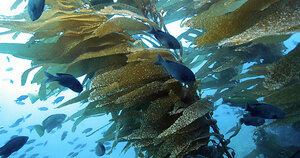 Courtesy of Robert Schwemmer/NOAA
"It seems to be working," says John Ugoretz, a habitat conservation manager with California's Department of Fish and Game. He's aboard a furiously bobbing 40-foot research vessel, Garibaldi, a few miles from Santa Cruz, the largest island in the Channel Islands National Marine Sanctuary. By "it" he means the marine sanctuary around the islands, which lie some 25 miles off Santa Barbara's coast. Five years ago, fishing was either prohibited or greatly limited in about one-fifth of the ocean around the islands. Since then, the marine protected areas (MPAs) have seen a greater abundance of marine life. It's almost more than many involved in the effort dared to expect. They thought that the benefits, if there were any, would be at least a decade in coming. That's what Mr. Ugoretz means by "working."
"When you create marine protected areas, you end up impacting people's livelihoods," says Ugoretz. "It's good to know that it actually works."
MPAs protect a portion of the ocean and its inhabitants the way a national park does on land. Fishing and other human activities are restricted or banned, so fishermen tend to view them with suspicion. But scientists increasingly think that they are key to sustaining sea-life diversity and bounty.
In times past, vast areas of the ocean were naturally off limits to human activity. They were too distant or too deep to fish. Scientists now say that the abundance humans associate with the sea was possible only because of these natural refuges. But technology has made nearly every corner of the ocean accessible. Humans fish almost everywhere. Many say the added burden of climate change, with its potentially negative effects on sea life, makes the establishment of refuges even more urgent.
---