How to eat seafood sustainably
Some general guidelines, tips, and resources for supporting good fishing practices.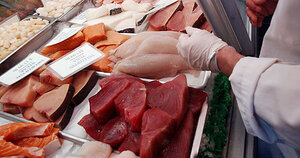 AP Photo/Brian Branch-Price
In general, US fisheries are better-managed than others worldwide, so try to buy local seafood. This may be difficult as well as expensive, because America imports 80 percent of its seafood. Think of the higher price as one that's closer to the true cost of a sustainable fishery.
The London-based nonprofit Marine Stewardship Council has certified 26 fisheries worldwide, including Pacific albacore, Alaskan pollock, and Baja Mexican red rock lobster.
Friend of the Sea, another international nonprofit, also has a certification process.
The basics: educate yourself
The lower you eat on the food chain, the better for you and the marine ecosystem. Predator fish may accumulate toxins like PCBs. Larger fish are also longer-lived, take longer to mature, and so are more vulnerable. If you don't know the status of a given fish, a "forage" fish is probably better.
National Oceanographic and Atmospheric Administration's Fishwatch has a wealth of information and recommendations.
The Monterey Bay Aquarium's Seafood Watch has a pocket guide to print out. It recommends wild-caught Alaskan salmon (not farmed), Pacific sardines, and even harpoon-fished Hawai­­ian swordfish, among others. It urges consumers to avoid orange roughy, groupers from the Gulf of Mexico and Atlantic, and Chilean seabass.
---