Midwest's postflood risk: toxic basements
Buildings can trap pollution-laden silt and mold, say scientists who studied New Orleans homes.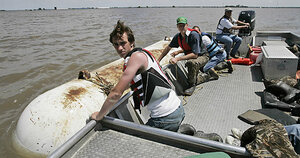 Sue Ogrocki/AP
The oil, gasoline, fertilizers, and herbicides swept away by floodwaters in June pose an environmental challenge to the rain-soaked Midwest.
But some of the most serious pollution problems may not lie outdoors. Instead, they could well lurk indoors in waterlogged basements and first floors of homes and businesses, where everything from cleaning agents to toxic metals accumulate in silt and mold.
These concerns about indoor toxins, which sprang up in the aftermath of the New Orleans flood in 2005, have led researchers to begin working on tools that could give emergency crews and homeowners a better idea of the risks they face when they step through the front door once floodwaters recede.
Indoor muck following a flood is a common problem, says Nicholas Ashley, a researcher at Louisiana State University in Baton Rouge involved in the work. But, he adds, "to the best of our knowledge no one had looked at the effect of interior sediment deposits" on pollution levels until he and his PhD adviser, Louis Thibodeaux, began to tackle the issue after hurricane Katrina flooded New Orleans.
The problem is that flood victims get an OK to return and begin the cleanup based on contaminant levels measured outdoors. But those measurements may significantly underestimate what awaits when people walk inside, he says.
---