Curaçao's crude legacy
A lake of asphalt and toxic fumes bedevil Curaçao. But who will pay to clean it up?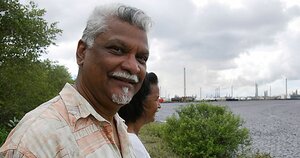 Colin Woodard
WILLEMSTAD, Netherlands Antilles
It's a scene out of Dante's "Inferno": a lake of asphalt and other hydrocarbons stretched out across what was once an estuary of the Caribbean Sea.
From its oil-blackened banks, the fumes are overwhelming, and dead birds can be seen scattered on the gooey surface that, after a heavy rain, can be mistaken for water. The oil refinery that created this lake dominates the skyline, flames pouring from its flare stacks.
"Sometimes dogs and other animals get stuck as well," environmental activist Yvette Raveneau says of the 200-acre artificial lake that lies on the outskirts of Willemstad on the island of Curaçao.
The lake is just a small part of the environmental legacy of the Isla oil refinery, built in 1918 on this, the largest of the Netherlands' Caribbean island dependencies. Smokestack emissions still fall on nearby neighborhoods and are blamed for a wide range of health problems. Oil leaks have contaminated the harbor and coral reefs in the nearby sea.
"I am one of the enemies of this lake, but it is not the highest priority," says Ms. Raveneau, a chemistry teacher and president of Friends of the Earth's Curaçao branch. Ten years ago, she led the Netherlands' Queen Beatrix on a tour of this contaminated corner of her kingdom.
"It's well known that the emissions are much too high, they are hazardous to the health, and yet they go on and on, year after year."
---