Tennessee spill revives coal ash controversy
A dike break released more than 5.4 million cubic yards of toxic sludge and put rivers downstream at risk.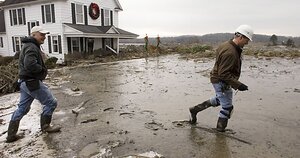 J Miles Cary/Knoxville news Sentinel/AP
Each summer, Rick Cantrell liked to pull up catfish off the dock behind his sister's house on Clinch River, a seasonal ritual that often lasts until the early hours of the morning.
That ended the Monday before Christmas when a retaining wall broke at a Tennessee Valley Authority (TVA) coal-fired power plant, releasing into the wild 5.4 million cubic yards of toxic sludge. In one day, the sludge destroyed several homes, the property values of the immediate region, and a way of life.
"There's no water anymore. There's no dock there anymore. It's all gone," said Mr. Cantrell.
Residents in this East Tennessee mountain valley of intersecting waterways and lush vistas are still adjusting to the realization that life may never be the same following what some say could be the largest environmental disaster in US history.
Occurring within weeks of a new administration taking office in Washington, the disaster has brought attention to the regulation of the storage and disposal of waste coal. Environmentalists hope it will lead to a reexamination of coal as clean energy.
Photographs show hundreds of acres of land caked in what looks like thick, porous mud but is actually water-soaked coal ash, the byproduct of coal combustion. The TVA claimed about 400 acres were covered in the sludge, said the TVA. According to the EPA, enough coal ash was released to cover more than 3,000 acres with sludge one foot deep. [Editor's note: The original paragraph misstated the area covered by the sludge.]
"[The waste] turned one of the most beautiful places in this country into a giant slag heap," Mr. Irwin said.
---