The worst air in the US? It's not in L.A.
Pollution levels and topography have helped make smog 'a way of life' in Bakersfield, Calif.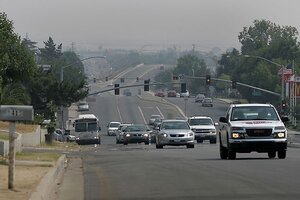 Casey Christie/The Californian/NEWSCOM/FILE
At Uricchio's Trattoria, a street café on 17th Street, the smell of sizzling garlic wafts into the air tinged lightly with the aroma of … exhaust. And despite the perfect blue sky, the view of the mountains surrounding this Central Valley city is obscured by a ruddy haze.
As Lois and Jill Moreland sip coffee and spear salad greens, they comment on the placement of a national story on smog in the Bakersfield Californian newspaper. "It only made the cover of the B-section," says Lois.
Bakersfield has moved into first place as the city with the most fine particulate pollution, according to report released Wednesday by the American Lung Association, which annually ranks America's cities with the unhealthiest air. Last year, the city was third behind Pittsburgh and Los Angeles.
For the third year in a row, Bakersfield ranks as the nation's second smoggiest city. It comes in just behind Los Angeles in the cities most polluted by ozone, the gas that forms a major component of smog.
Local TV has already broadcast the story and national reporters have shown up, but the Moreland sisters seem unfazed. "Smog is a way of life here," says Jill.
It's been more than a decade since the first reports about the growing pollution threatening America's most diverse and productive farm counties here in the Central Valley. The reasons for the pollution are manifold, including dust from tractors and mist from fertilizers and pesticides that grow half the nation's produce.
---