Will G-8 countries move faster on climate change?
In the post-Bush era, the major industrial nations meeting this week face pressure to set firm temperature and emission-reduction goals.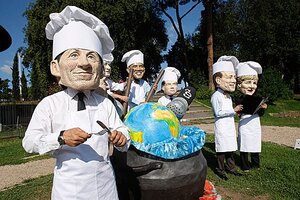 Remo Casilli/Reuters
In the 18 months since work began in earnest on a new global climate treaty, the world has been waiting for industrial countries – especially the US – to signal that they know deep cuts in greenhouse-gas emissions must occur soon to avoid the worst effects of global warming. Hopes are running high that this week's meeting of leaders from the Group of Eight – countries that represent the world's eight richest economies – will provide that signal.
Climate change is an issue that looms large on the agenda at the economic meeting that begins Wednesday in L'Aquila, Italy. The G-8 event is sandwiched between two United Nations-sponsored negotiating rounds aimed at crafting a new global-warming treaty to pick up where the 1997 Kyoto Protocol leaves off at the end of 2012. Negotiators say they hope the outlines of a treaty will be ready for approval at December's climate-change summit in Copenhagen.
The G-8 meeting also overlaps with the US-sponsored Major Economies Forum. Former President Bush established it to bring the largest emitters together, along with key developing countries, to try to find ways to smooth out bumps in UN negotiations. Progress has been slow since a road map for talks was set out at the 2007 UN climate summit in Bali.
New momentum from the US
---