'Landmark' study suggests fishing stocks can rebound
It shows catch quotas, ocean zoning, and different fishing gear is helping to restore fisheries and their ecosystems.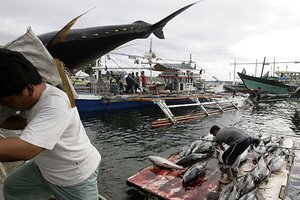 Aaron Favila/AP/File
Three years ago, a team of marine scientists looked at the global problem of overfishing and came to the grim conclusion that by 2048, populations of all the fish that people around the world eat will have collapsed.
Now, some of those same scientists have joined others to compile a new, more hopeful assessment: Overfishing remains a critical problem, but in some parts of the world, conservation efforts appear to be paying off.
The results suggest that broader use of a small kit of management tools could put global fisheries back on a path to sustainability.
"This is a watershed," says marine ecologist Boris Worm, one of the lead scientists on the new study and leader of the team that came to the more-pessimistic conclusion in 2006. The new study "shows clearly what can be done not only to avoid further fisheries collapse but to actually rebuild fish stocks" and their ecosystems. Moreover, it represents a baseline scientists and managers can use to gauge progress, he says.
There could be policy implications as well. Past studies have triggered intense disagreements between marine ecologists, who tend to view things from a conservation standpoint, and fisheries scientists, who focus on sustainable exploitation.
"The fact that such a diverse group of folks have gotten together will be a signal to policymakers that they should be taking action," says Rebecca Goldburg, director for marine science at the Pew Environment Group.
---