Are aging ships still a toxic export?
Environmental groups worry that the practice of reflagging US commercial ships that may have PCBs so they can be scrapped abroad is beginning again.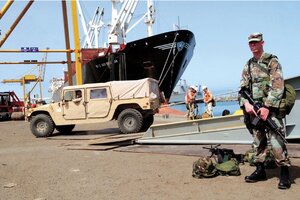 Photo by PH1 Arlo K. Abrahamson, USN/Courtesy of the Military Sealift Command/file
On the docks at Norfolk, Va., two geriatric commercial cargo ships – the Bonny and the Anders - are now loading what may be their last commercial cargo before finally setting sail for the scrapping yards of some developing country. Are they laden with tons of toxic chemicals that will spill into the environment once they are cut up – or not?
It's a question that lurks over three-decades-old vessels like these - a vintage that environmentalists say were commonly constructed using tons of asbestos and toxic polychlorinated biphenyls (PCBs).
But the bigger concern is whether the US will – or even can – require that such vessels be checked before they are sent abroad.
As long ago as 1976, Congress banned US export of toxic materials abroad where few protections for the environment or workers exist. Under the Toxic Substances Control Act (TSCA) of 1976, PCB waste – including entire ships if they carry high-enough concentrations of PCBs – may not be exported overseas or even put into use as "distribution in commerce."
But that's exactly what US commercial ship owners have been doing for years by sailing through a giant legal loophole: reflagging.
By first selling a US vessel to a new foreign owner – flying a foreign flag – the former US ship now a foreign ship can then be scrapped abroad quite legally. Is this to be the Bonny and the Anders's fate?
If so, it would not be uncommon.
The Bonny, which was a US-flag vessel just last week, is this week flying the St. Kitts and Nevis flag, according to the Basel Action Network (BAN), an environmental group fighting exports of pollution from developed to undeveloped nations.
---