Water-use saga: The return of Glen Canyon
After a beautiful landscape reemerged, a new plan for Lake Powell water usage has taken shape.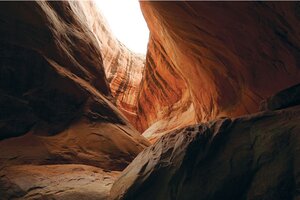 David McNew/Getty Images
"I don't know that there's very many people in the world who want to kiss, love, hug, lick, touch, and talk to sandstone," says 89-year-old Katie Lee, as she sums up the loss she felt when the 170-mile Glen Canyon in Arizona was dammed in 1965. The Colorado River backed up, creating one of the largest reservoirs in the United States, Lake Powell, etching about 2,000 miles of shoreline as it flooded the main canyon and nearly 200 side canyons.
The purpose of the dam was to help meet the water supply of growing Western cities from Las Vegas to Los Angeles. But Ms. Lee, a former Hollywood actress who moved to Arizona and later became the winner of the Glen Canyon Institute's David Brower Award for outstanding environmental activism, would emotionally refer to the event as a "drowning."
The construction of Glen Canyon Dam near Page, Ariz., was a controversial project from its inception in 1956. Environmentalists pointed out that numerous natural wonders would be submerged. They also raised issues of land use and the cost to the environment.
---