The next major threat to the ozone layer: nitrous oxide
Each molecule remains in the atmosphere for about 100 years, meaning the gas can deplete the ozone layer as much others covered by the 1987 Montreal Protocol.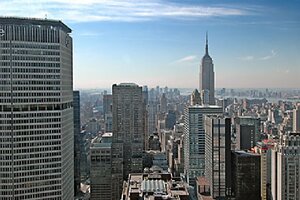 Newscom
A colorless, sweet-smelling gas with a long history as a medical and dental anesthetic is the next big threat to Earth's protective ozone layer, according to new research.
The culprit: nitrous oxide.
Its role in destroying ozone has long been recognized, as well as its role as a heat-trapping greenhouse gas. But the new study puts nitrous oxide's ability to deplete ozone into numbers comparable to those used for other ozone-depleting gases covered by the 1987 Montreal Protocol.
Nitrous oxide's ozone-depleting clout per pound of gas is comparable to that of a group of chlorine-based gases, HCFCs, that currently are scheduled to be phased out by 2013 under the protocol. And each molecule of nitrous oxide remains in the atmosphere for about 100 years, giving it a lifetime comparable to the compounds covered by the Montreal Protocol.
The new study "puts nitrous oxide onto the same playing field" as other ozone-depleting gases, says John Daniel, one of the trio of scientists at the National Oceanic and Atmospheric Administration's Earth System Research Laboratory that conducted the study. The lab is in Boulder, Colo. The team is reporting its results in Friday's issue of the journal Science.
Near Earth's surface, ozone is considered a pollutant. But in the stratosphere, it shields the surface from much of the sun's ultraviolet light. Scientists have linked excessive amounts of UV radiation to a range of environmental and health problems.
Nitrous oxide has a range of natural and human-made sources. The largest man-made source is agriculture, where the gas gets emitted after bacteria in soil break down the nitrogen in chemical fertilizers as well as in manure-based fertilizers. Nitrous oxide also comes from burning fossil fuels and from burning biomass.
---