Obama's ocean task force releases report
Sweeping changes could affect the United States' management of oceans, including offshore energy development.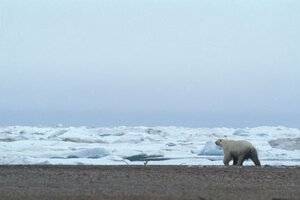 NEWSCOM/file
With demands on US ocean resources control growing quickly, the Obama administration today outlined a new comprehensive ocean management plan [PDF] to guide federal agencies in restoring and protecting a badly stressed US coastal and ocean environment.
Today's policy shift proposed by the president's Interagency Ocean Policy Task Force holds enormous potential for sweeping changes in how the nation's oceans are managed, including energy development, experts say.
At its core, the plan would set up a new National Ocean Council to guide a holistic "ecosystem-based" approach intended to elevate and unify what has long been a piecemeal approach by US agencies toward ocean policy and development -- from oil and gas exploration to fisheries management to ship transportation to recreation.
The proposal would include "a more balanced, productive, and sustainable approach to using managing and conserving ocean resources," Nancy Sutley, chairman of the president's Council on Environmental Quality told reporters in a teleconference unveiling the plan. It would also set up "a comprehensive national approach to uphold our stewardship responsibilities and ensure accountability for our actions."
---