Yuba River accord won't end West's water wars, but it's a start
Lower Yuba River Accord honored at Schwarzenegger's Global Climate Summit. The pact settled a 20-year fight over water use.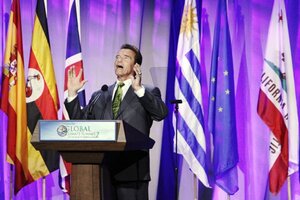 Reed Saxon/AP
Jake Gittes would be proud.
The protagonist played by Jack Nicholson in the movie "Chinatown" uncovers one of the most heinous plots in the history of US water wars – the illegal diversion of water to Los Angeles that decimated the Sierra-Nevada paradise of Owens Valley in the 1920s. The story is based on the dirty dealings typical of high-stakes water management across the US West.
Enter a new model for determining who gets how much water in the arid West. The Lower Yuba River Accord, which received the 2009 Governor's Environmental and Economic Leadership Award at the Global Climate Summit Wednesday, ended 20 years of infighting among 18 agencies and private groups by establishing a way to mete out the water in the California river to benefit farmers, fisheries, and city-dwellers.
"Historically in California, water wars have been the most contentious resource battles imaginable," says Linda Adams, head of the California Environmental Protection Authority. "The fact that these organizations were able come up with an agreement that met all their needs at once is phenomenal – and an example that sneaky, back-room competition doesn't have to be the norm."
---