German businessman smuggled coral into US from Philippines
A German businessman pleaded guilty Wednesday in federal court in Oregon to smuggling 40 tons of coral into the US from the Philippines. Coral reefs are threatened globally.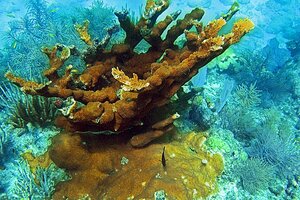 Scott Keeler/Newscom
Anti-smuggling operations by US law enforcement agents aren't always targeted at intercepting terrorists, drugs, or illicit money. Sometimes the effort is aimed at protecting the earth itself.
This week, federal prosecutors wrapped up an investigation into a scheme to smuggle 40 tons of coral into the US from the Philippines in violation of laws protecting the world's coral reefs.
A German businessman from Essen pleaded guilty Wednesday in federal court in Portland, Ore., to arranging two shipments in 2008 from the Philippines to Miami and Portland.
Gunther Wenzek runs a company called CoraPet, which sells sand, pebbles, sponges, and shells for aquariums, terrariums, and ponds.
According to documents filed in the case, Mr. Wenzek illegally smuggled two 20-foot shipping containers of coral into the US. The containers were falsely labeled as holding "rock" or "gravel."
To disguise the true nature of the cargo, Wenzek told his US-based customer to prepare shipping documents using a US Customs tariff code for limestone products.
In an e-mail, Wenzek explained: "This does not pinpoint custom direct on checking of CORAL products etc. That should be avoided."
A week later, according to court documents, he followed up with another e-mail, again urging use of the deceptive tariff code. "Point is: this numbers do not point custom automatically on the subject: CORAL. That's important I guess and doesn't make 'noise,' " he wrote.
---