Pressure builds over bottled water
Towns around the U.S. fight firms that want to soak up a local resource.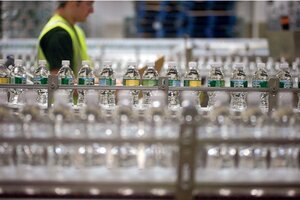 Sarah Beth Glicksteen /The Christian Science Monitor
In many ways Salida, Colo., typifies the 21st-century Rocky Mountain town. Originally founded along a railroad line in the late 1800s, it's now geared primarily toward tourism.
Among the red brick buildings of the historic center where ranchers, miners, and railroad workers once held sway, tourists now move between coffee shops, galleries, and outfitters. During warmer months, kayakers "surf" a man-made wave in the fast-flowing Arkansas River, which marks the edge of the downtown area.
For the better part of this year, Salida – population 5,400 – has also been the setting for a 21st century kind of battle – over water.
Here and there in windows and entryways are signs reading "Stop Nestlé" or "Nest-Leave." They refer to a proposed project by Nestlé Waters North America, which hopes to pump water from a spring a half-hour north of here and sell it under its Arrowhead label.
Citing myriad concerns, a group of residents has objected vigorously. They worry about impacts to the watershed and to nearby wetlands. They say that climate change, predicted to further dry Colorado and the Southwest, warrants a precautionary approach to all things water-related. And, pointing to fights other communities have had with the company, they say they simply don't want Nestlé as a neighbor.
Nestlé counters that these concerns are overblown. The company says: The amount of water it plans to withdraw is negligible; the project will bring many benefits – economic and otherwise – to the community; and the company, the largest water bottler in North America, is an upstanding corporate citizen.
---