Will clash of science and politics undermine Copenhagen summit?
Climategate emails could have huge impact on summit, says Saudi Arabia's lead climate negotiator. Others say the controversial leaked emails provide an opportunity to educate the public about climate science.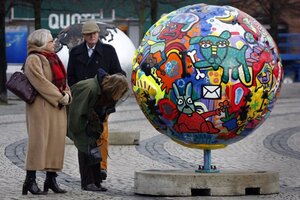 Bob Strong/Reuters
The underlying question behind a growing number of probes into the so-called climategate emails is simple, but vexing: Did politics -- especially a quest to eliminate uncertainty from findings that indicate man's role in global warming -- creep into the scientific method?
And if so, what does it mean for the Copenhagen Summit that begins this coming week, where nations hope to hammer out a deal to control greenhouse gas emissions in a way that won't pick economic winners or losers?
"While the ultimate political impact of the climate-gate scandal remains to be seen, it raises serious and disturbing questions on the validity of the science used to measure climate change," Rep. John Sullivan (R) of Oklahoma tells the Hill newspaper.
The leaked (or hacked, it's still not clear) emails -- which most seriously hint at attempts to keep adverse views out of the public eye -- have sparked a number of investigations.
Dr. Rajendra Pachauri, who heads the United Nations Intergovernmental Panel on Climate Change, called questions brought up by the emails "a serious issue" that the UN will "look into in detail."
---