Green building comes of age
Competition, oil prices, and concerns about global warming have caused the '70s fad to go mainstream. Is green building finally coming of age?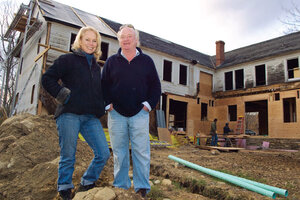 Joanne Ciccarello/Christian Science Monitor
Green building is finally coming of age. Building sustainable, energy-efficient homes became a fad during the 1970s energy crisis, bolstered by tax incentives for solar energy and growing environmental awareness. But its popularity faded as oil prices dropped, tax breaks were rolled back, and an economy of excess kicked in during the booming '90s. Green became just a color to many in the culture.
But due to concerns about possible climate change, the recent spikes in oil prices, and a set of new tax incentives, green building has undergone a resurgence in the past two years.
"We're no longer a 'nascent' industry. Things are moving rapidly now, starting to coalesce and solidify," says Rick Schwolsky, the editor in chief of EcoHome magazine. "There's still a lot of confusion, and no one standard and/or single organization that represents the beacon [of green building]. But trade associations are now fighting over who is greener. It's the best thing that could happen."
The National Association of Home Builders (NAHB), whose members are responsible for constructing 80 percent of the new homes in America each year, certified its first "Emerald Green" remodeled home in November.
It's in Phoenix and is the first renovation in the country to meet the highest green standards developed by the NAHB. Called the National Green Building Standard, it was published in January and is the only green certification process accredited by the highly respected American National Standards Institute (ANSI).
---