Prehistoric Indian drawings to be protected in Utah canyon
Natural gas company, state conservation agencies, and tribal leaders come to an agreement to protect prehistoric art treasures in Utah's Nine Mile Canyon.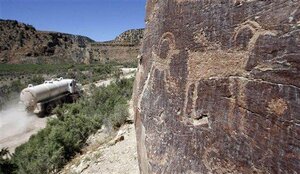 AP Photo/The Salt Lake Tribune/Al Hartmann
An unusual agreement to protect a Utah canyon decorated by ancient American Indian art is expected to allow energy development to move forward.
The pact is scheduled to be signed today by federal and state agencies, conservation and archaeology groups, tribal leaders, and a Denver-based natural gas producer.
It calls for road work to cut down on abrasive dust that can erode the rock art panels of Nine Mile Canyon.
The canyon — actually 78 miles long — has been called the world's longest art gallery, with thousands of prehistoric drawings.
Bill Barrett Corp. is awaiting federal environmental approval to add 800 gas wells on high plateaus that are accessible only from Nine Mile Canyon.
The company says it was happy to end years of dispute with an agreement that brought an unprecedented level of scrutiny to its project.
"We were able to come to some agreement on practices necessary to protect the archaeological resources in the canyon. It's a step to developing the gas reserves, and we look forward to working on solutions to protect wildlife and the area's wilderness character," Duane Zavadil, the company's vice president for government affairs, told The Associated Press on Wednesday.
The agreement brings two practical changes to Nine Mile Canyon, which will see ramped up truck traffic as the gas wells are developed. Bill Barrett is likely to apply processed oil sands to harden the road and more permanently cut down on dust.
That step could prove more economical and effective than the alternative, repeated applications of a pine-based tar, Zavadil says.
---