California mountain range missing several (million) candles on its birthday cake
Scientists discover that the Sierra Nevada mountains in California reached their current height 50 million years ago, 30 million years earlier than previously thought.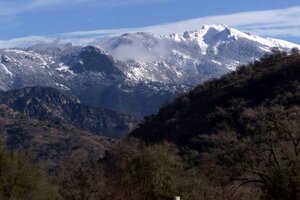 Robert Harbison/The Christian Science Monitor/file
The Sierra Nevada mountain range reached its present height 50 million years ago — 30 million years earlier than geologists once believed, according to a new study.
The research adds to a growing body of evidence that the Sierra Nevadas are far older than once thought and has implications for the evolution of the plants and animals in the West, as well as for the likely climate of ancient North America.
The study, by scientists at Yale University and the Berkeley Museum of Paleontology, used 50-million-year-old chemical traces left by microbes and rain droplets that fell onto ancient leaves to calculate the new height estimate for the Sierras at that time.
The western United States would have looked very different back then, filled with lush forests of vines and magnolias. The Pacific Ocean would have lapped the foot of the Sierras.
"This is a time period where there would have been crocodiles in Wyoming," says Michael Hren, lead author and a University of Michigan postdoctoral fellow who did the research while at Yale.
---
Subscribe to Recharge
Get the Monitor stories you care about delivered to your inbox.