Veronica Egan and the 'Great Old Broads' keep vigil over endangered wild lands.
The conservation group, made up mostly of older women, helps the US government track illegal use of public lands in the US West.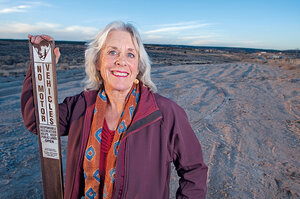 Carl Greers/Special to the Christian Science Monitor
Don't call Veronica Egan a lady. Call her what she calls herself: a great old broad. As executive director since 2002 of Great Old Broads for Wilderness, an environmental group based in Durango, Colo., Ms. Egan encourages everyone to become a "Broad."
Members don't have to be an over-50 woman – although most are. "Broadness," Egan says, "is a state of mind." You can also join if you're a younger woman – you'll be known as a Training Broad. Or even if you're a guy: You'll be a "Great Old Bro."
While becoming a "Great Old Broad" includes taking fun hikes with like-minded, age-compatible women, the real purpose of the group runs deeper and, well ... broader.
Founded by Susan Tixier as a nonprofit organization in Escalante, Utah, in 1989 to celebrate the 25th anniversary of the passage of the federal Wilderness Act, Great Old Broads for Wilderness means business. Its mission is to advocate for wilderness and wildlands. To do this, it relies almost entirely on the experience, energy, activism, and commitment of elders.
Talk with Egan and she quickly reveals her commitment to her work.
"We're not doing this just for ourselves, just so we can go out there for our own last great hike. We want to preserve what we've been able to experience – these glorious places – for our grandchildren and our great-grandchildren."
---