Hawaii on track to meet renewable energy goals
The fossil fuel-dependent island state is on track to receive 40 percent of its electric power from renewable sources by 2030.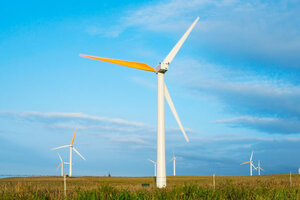 NEWSCOM
Two years into Hawaii's ambitious project of vastly increasing the amount of power it gets from renewable sources, state leaders say the islands are on track.
The goal is for Hawaii, the nation's most dependent state on foreign oil, to get 40 percent of its electric power from renewables by 2030. The state so far only gets about 9 percent of its power from such sources.
A state law passed last year calls for at least 10 percent of electricity sales to come from renewables by the end of this year, and 15 percent by 2015.
Although new wind and solar projects haven't yet made a dent in Hawaii's use of fossil fuels, the state has laid the groundwork for additional renewable power to come online, according to public utility companies, environmentalists, and state officials.
"We have a long way to go, but we've accelerated our pace," says Robbie Alm, executive vice president for public utility Hawaiian Electric Co. "Most of this in the end has to take place in the private sector."
The achievements of the Hawaii Clean Energy Initiative were highlighted at the governor's mansion Wednesday during a ceremony marking the two-year anniversary of the deal between the federal government and the state.
---