Eco-philanthropists to the rescue of wildlife?
Former CEOs lead a pack of eco-philanthropists who are bankrolling parks to conserve pristine land and wildlife.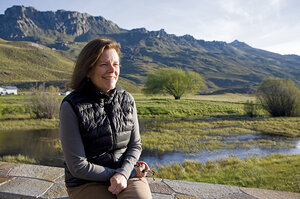 Melanie Stetson Freeman - Staff
Estancia Valle Chacbuco, Chile
While everyone else is sitting down to dig into a roast-chicken dinner, hostess Kristine McDivitt Tompkins is padding around her lodge barefoot, binoculars in hand, charting the movement of a duck on the pond outside.
When she finally tears herself away from the picture window – which frames the rolling hills of her $10 million, 173,000-acre Patagonian spread – to sup with her guests, it's with a bird book open next to her plate so she can annotate the guests' sightings. And no one dares a lengthy deliberation on politics or the personal; Ms. Tompkins steers all conversation straight to her obsession: wildlife.
"I have always had a real affinity for the nonhuman world," explains the former CEO of the outdoor clothing company Patagonia. Her extraordinary wealth has allowed her – and her husband, Doug Tompkins, also a former outdoor clothing magnate who founded The North Face – to bankroll that simple sentiment into a complex crusade to save vast tracts of South American wilderness.
This power couple leads a movement of like-minded monied conservationists – eco-barons who, instead of waiting for the world to grow an environmental consciousness, are purchasing land with their own money and protecting it themselves. This band of former executives and entrepreneurs generally donates tracts as new national parks or preserves.
The Tompkinses have purchased 2 million acres in Argentina and Chile and already created two national parks. Their latest project here, on the rolling, dry steppe that was once one of the Chile's largest sheep ranches, is named, for now, the Future Patagonia National Park.
---