No trade ban for declining bluefin tuna
Efforts to halt the decline of Atlantic bluefin tuna received a blow Thursday, as the Convention on International Trade in Endangered Species voted against a trade ban.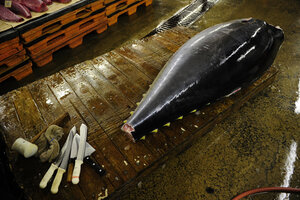 NEWSCOM
Efforts to ban international trade in Atlantic bluefin tuna sank like a stone Thursday, disappointing both the US and environmentalists and raising doubts about whether the delectable fish can survive in the long term.
Defying expectations, delegates at the 175-nation Convention on International Trade in Endangered Species (CITES), meeting in Doha, Qatar, declined to approve a trade ban.
Scientific surveys have shown the Atlantic bluefin tuna to be in sharp decline, and supporters of a ban said they had sensed an international consensus building around the need to take action.
The ban's failure prompted some dire predictions from those who have been lobbying for action.
"The abject failure of governments here at CITES to protect Atlantic bluefin tuna spells disaster for its future and sets the species on a pathway to extinction," Greenpeace spokesman Oliver Knowles said in a statement.
US officials, too, were unhappy about the outcome, though they vowed to try to protect the bluefin through regulatory means. "Some procedural aspects of [the bluefin meeting] were disappointing," Jane Lyder, Deputy Assistant Secretary for Fish and Wildlife and Parks and acting head of the US delegation, acknowledged to reporters in a teleconference Thursday.
Outmaneuvered?
US officials and other pro-ban delegates appeared to be caught off guard during debate when Libya's representative, shouting and waving his arms, interrupted to complain about the problems such a trade ban would cause. After several minutes, he quieted and called for a vote.
---