Conservative Evangelicals embrace God and green
Why some right-leaning evangelical Christians have become true believers in climate change. God and green go together, these conservatives say.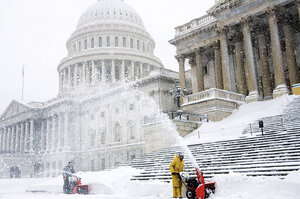 Kristoffer Tripplaar/Sipa Press/Newscom
The cultural revolution of the 1960s and '70s included the birth of the environmental movement. That's when "there was a deep split, and the right stole God and the left stole green," says Jonathan Merritt, a 20-something evangelical Christian who sees himself as a political conservative but also as an environmentalist. "I think God and green go together, and I think they belong together."
While many Chris­t­ian denominations enthusiastically support efforts to combat climate change, evangelical Christians, who tend to be both theologically and politically conservative, have been caught up in an internal tussle over the issue in which skeptics seem to hold the upper hand.
But a new generation of Evangelicals such as Mr. Mer­ritt – who, he argues, carry less "baggage" from the 20th-century's cultural wars – are making a spirited effort to show that their religious beliefs and their environmental concerns are not only compatible but inextricably linked.
"I'm an environmentalist because I'm a Christian and not in spite of that fact," says Merritt, an author and speaker whose book, "Green Like God: Unlocking the Divine Plan for Our Planet," will be published on Earth Day, April 21.
Conservative US Protes­tants are among those Chris­tians most likely to be skeptical that human-induced climate change is taking place. In a poll last year, only 34 percent of white Evangelicals agreed there is solid evidence that Earth is warming because of human activity. In contrast, 48 percent of white mainline Protestants agreed, according to the survey, released by the Pew Forum on Religion & Public Life.
---