One farmer acts to save environment from factory farms
When farmer and environmentalist Lynn Henning saw what factory farms were doing to the land and water, she decided to act.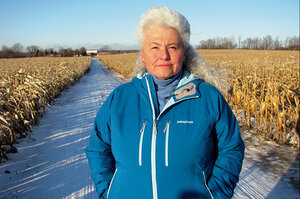 Courtesy of Tom Dusenbery/Goldman Environmental Prize
Lynn Henning doesn't look much like the stereotypical environmental activist. She has no visible piercings, and neither hemp nor Birkenstocks feature heavily in her wardrobe.
In fact, the white-haired Michigan woman looks very much what she is: a grandmother and farmer's wife.
But on April 19, Henning became one of the 2010 winners of the Goldman Environmental Prize, sometimes called the Green Nobel, the largest prize in the world given to grass-roots environmentalists.
How she became a self-taught bane to local CAFOs (concentrated animal-feeding operations) is a story 10 years in the making.
"What struck the jury was that her leadership addressed one of the most serious and least-talked-about issues in our country today," says Lorrae Rominger, deputy director of the Goldman Prize in San Francisco.
This is the first time the $150,000 prize has been awarded to someone battling CAFOs, Ms. Rominger says. The jury was very concerned about "the water and air pollution that comes from these factory farms and how they are making people sick," she says.
Many Americans are unaware of the environmental costs of industrial-style farming, Rominger says. "I just don't think that many people understand there are factory farms in this country where they keep thousands of animals in a barn with no windows."
---