Ex-rangers ride to the rescue of the world's national parks
Retired U.S. National Park Service workers formed Global Parks to share their expertise abroad.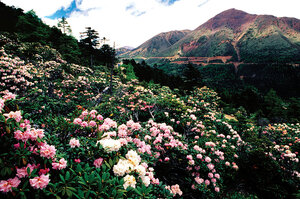 Newscom
On Sept. 30, 2009, Anne Castellina fielded an e-mail from Doug Morris, a fellow US National Park Service retiree. Did the former Alaska park superintendent, Mr. Morris wondered, feel like flying to China in November as a volunteer consultant?
"Sure," Ms. Castellina said.
In October, she drafted a lesson plan about "park interpretation" modeled on consulting she'd done for the US National Park Service (NPS) in Zambia. Five weeks after their initial communiqué, Castellina and Morris arrived in Baoshan, an untouristy Chinese city in western Yunnan Province.
The retired Americans had come to advise senior managers of Yunnan national parks and nature reserves. For two days, they taught park-interpretation skills at an upscale Baoshan hotel. Then they boarded a bus to Gaoligong Mountain National Nature Reserve, a UNESCO-recognized protected area on the border between China and Burma (Myanmar), where they supervised a two-day outdoor training.
---