A home made green and lean
Eco-aware rehabber finds that doing right by the earth is cost-effective, too.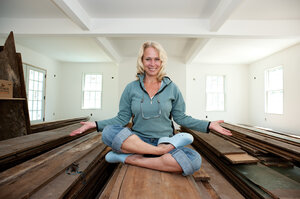 Joanne Ciccarello/Staff
Almost a year has passed since my fiancé and I began renovating Sheep Dog Hollow in what we hoped would be a green and economical manner. Our goal was to test the proposition that "green" and "affordable" were no longer mutually exclusive, thanks to advances in technology and the various tax incentive and rebate programs designed to encourage people to kick the fossil-fuel habit.
The 100-year-old-farmhouse has been transformed from a musty, abandoned shell into a model of cutting-edge environmental technology. Our heat and air-conditioning now come from the ground beneath our feet; there's not a draft anywhere, given the tightness of our castor-oil-based spray-foam insulation; and our floors are made of boards rescued from old buildings before they were razed.
And while my savings and retirement accounts are drained, I haven't filed for bankruptcy. So, I conclude: mission accomplished. Well, almost. There's more to be done. Most of it is cosmetic, like the trim, painting, and putting up electrical fixtures. But we decided from the start that we didn't want to go into debt, so we will finish when our bank accounts recover.
As with any human endeavor, hindsight shows how things could have been done better. That's partly the purpose of this article, to tell you a few green-renovation lessons I learned – some of them the hard way – so you won't have to.
My biggest revelation
The most striking thing I found is that green building has arrived. As the motto of the National Association of Home Builders (NAHB) states: "Residential green building is no longer a trend – it is the future of building."
Green products are now sold at The Home Depot and Lowe's. They're more efficient and less expensive, compared with 30 years ago. Equally important, the notion of green building has become part of our conversation.
---