Gulf oil spill: Will it hit Miami, Fort Lauderdale soon?
Oil is more likely to keep moving east because of the so-called loop current, NOAA officials said in a report issued Friday. The likelihood of the Gulf oil spill soon hitting the Keys and the southeastern coast of Florida is 80 percent, according to the officials.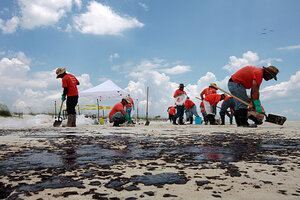 Dave Martin/AP
---
Subscribe to Recharge
Get the Monitor stories you care about delivered to your inbox.