EPA moves to cut power plant emissions to fight air pollution
Citing health benefits of reduced air pollution, the EPA on Monday proposed requiring power plants in the central and eastern US to dramatically curb emissions by 2014.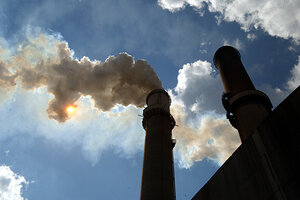 Chuck Berman/Chicago Tribune/AP/File
The Environmental Protection Agency moved Tuesday to dramatically curb power plant emissions across the central US and East Coast, a step the federal agency says will significantly reduce health and pollution impacts across that 31-state region.
Responding to a 2008 court ruling, the EPA proposed sharp cuts in emissions from some 900 coal-, natural gas-, and oil-burning power plants – a 52 percent reduction in nitrous oxide (NOX) and 71 percent cut in sulfur dioxide (SOX) by 2014.
The EPA move is intended to bring the federal government into compliance with a decision by the US Court of Appeals in Washington, D.C., that overturned the Bush administration's national Clean Air Interstate Rule (CAIR). The court found that rule failed to substantially maintain air-quality standards among states or meet statutory deadlines – and it ordered the EPA to come up with a new rule.
Tuesday's proposal – which is expected to be challenged in court – is aimed at enabling "downwind" states to develop air-pollution reduction plans based on knowing in advance how much pollution would be drifting across their borders from "upwind" states. The so-called "transport rule" would mean much tighter federal requirements for SOX and NOX emissions reductions for upwind states.
---