Climate scientists exonerated in 'climategate' but public trust damaged
The leaked 'climategate' e-mails showed lack of transparency, plus some politicking. But while scientists have been largely cleared of wrongdoing, the impact has shaken climate science.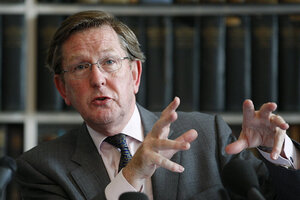 Sang Tan/AP
Most climate scientists back the theory of man-made global warming. But somewhere along the line – as revealed by last year's "climategate" scandal – some key scientists became cocky and defensive.
A six-month investigation into the leaked e-mails that formed the "climategate" scandal has largely exonerated key scientists, including Phil Jones, the former – and now reinstated – director of the University of East Anglia's (UEA) Climate Research Unit (CRU). The CRU's key findings have a major impact on the UN's Intergovernmental Panel on Climate Change (IPCC), which in turn influences climate policy on a global scale, including pending cap-and-trade carbon offset legislation in the US. Critics charged that the "climategate" e-mails proved that researchers were gaming the science to win public support for the idea that countries need to act to correct global warming.
In his report, British civil servant Sir Muir Russell found that the climategate e-mails don't undermine the basic science behind man-made global warming. Nevertheless, the impact of the leaked e-mails has been to push scientists toward the realization that talking about punching climate skeptics and being coy about releasing data hardly build public trust in their work.
---