Great Lakes states step up pressure on Obama to stop Asian carp
With the invasive and destructive Asian carp now on the doorstep of Lake Michigan, lawmakers in the Great Lakes states say time is running out.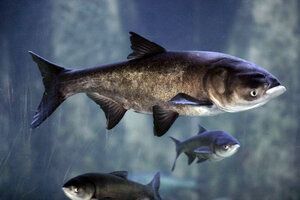 M. Spencer Green/AP/File)
Federal officials are not moving swiftly enough to keep Asian carp out of the Great Lakes, say critics of the Obama administration's plan to ensure the invasive species, recently found near Lake Michigan, is stopped.
"At some point we need to have a permanent solution," said US Sen. Debbie Stabenow (D) of Michigan at a subcommittee hearing on water and power on Wednesday.
Senator Stabenow acknowledged that President Obama's framework to fortify entryways to the Great Lakes systems is providing valuable information on the Asian carp's movement, but she and other Great Lake lawmakers want a more sure-fire plan for keeping the fish, an aggressive eater known to devour local species, from harming local fisheries and thus damaging area economies.
"Obviously, the fish are not going to wait for us. This is something we have to act on as quickly as humanly possible," she said.
A coalition of Great Lakes states led by Michigan sued Illinois in December to force the closure of two navigational locks – a plan meant to stop the unfettered access of the fish into Lake Michigan.
Illinois said a complete lockdown would hurt the area's navigational interests.
In February, Mr. Obama committed $475 million to research solutions and to build an underwater electric barrier. But when a 19-pound Asian carp was fished out of Lake Calumet, six miles from Lake Michigan and located outside the barrier, the federal framework was criticized as lacking urgency.
---