BP oil spill: 'Mystery plumber' may be brains behind containment cap
An anonymous plumber provided sketches of a flange and seal design six weeks ago that is almost identical to the containment cap lowered onto the Macondo well in the Gulf of Mexico. It's the latest effort to stop the BP oil spill.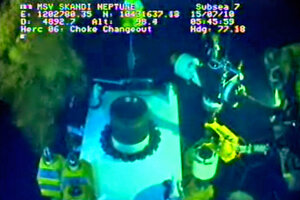 BP PLC/AP
"Joe the Plumber" became a household name in 2008, but will anyone ever know the identity of the plumber who may have brought BP to the brink of stopping the oil gushing into the Gulf of Mexico.
Six weeks ago, Robert Bea, an engineering professor at the University of California, Berkeley, received a late-night call from an apologetic "mystery plumber." The caller said he had a sketch for how to solve the problem at the bottom of the Gulf. It was a design for a containment cap that would fit snugly over the top of the failed blowout preventer at the heart of the Gulf oil spill.
Professor Bea, a former Shell executive and well-regarded researcher, thought the idea looked good and sent the sketches directly to the US Coast Guard and to a clearinghouse set up to glean ideas from outside sources for how to cap the stubborn Macondo well.
When Bea saw the design of the containment cap lowered onto the well last week, he marveled at its similarity to the sketches from the late-night caller, whose humble refusal to give his name at the time nearly brought Bea to tears.
"The idea was using the top flange on the blowout preventer as an attachment point and then employing an internal seal against that flange surface," says Bea. "You can kind of see how a plumber thinks this way. That's how they have to plumb homes for sewage."
BP has received 300,000 ideas from around the world for how to cap the well after decades-old methods failed. Everyone from amateur inventors to engineers, Hollywood stars to hucksters, have swamped the unified command with ideas.
BP executive Doug Suttles says the new containment cap design came from weeks of trial and error. "We've been adding and trying new things constantly," Mr. Suttles said last week.
---