Joe the Plumber (not that one) says he helped stop Gulf oil spill leak
A Kansas man says he's the 'mystery plumber' who influenced the BP containment cap design that stopped the Gulf oil spill leak. BP says Joe Caldart's sketch may have been one of many it's used.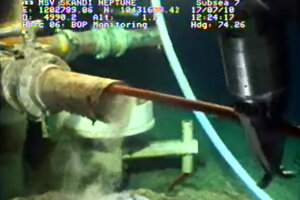 AP Photo/BP PLC
The identity of the "mystery plumber" whose homemade design for a new containment cap may have helped to finally stanch the Gulf oil spill geyser emerged Saturday.

His name is Joe Caldart, a married, 40-something blue-collar guy with five kids and three hound dogs living in St. Francis, Kan. Mr. Caldart has 907 Facebook friends. He likes the band Rednecks & Red Dirt, watches "Family Guy," and cites the 1978 Burt Reynolds flick "Hooper" as one of his favorites.
As to his decision to go public, Caldart says in an interview with the Monitor, "My wife was, like, 'This is kind of scary, I don't know if you should [go public],' and I said, 'Yeah and no.' But I also felt like people should know that here an average guy submitted something that maybe helped."
IN PICTURES: The Gulf oil spill's impact on nature
Caldart's sketches, routed six weeks ago to BP and the Coast Guard through University of California petroleum engineer Robert Bea, are a near identical match to the design of a new containment cap lowered last week over the renegade Macondo well 50 miles off Venice, La.

"The idea was using the top flange on the blowout preventer as an attachment point and then employing an internal seal against that flange surface," says Dr. Bea. "You can kind of see how a plumber thinks this way. That's how they have to plumb homes for sewage."
---