Gray wolf comeback worries Midwest
Gray wolf numbers in the US are at their highest point in years thanks to diligent restoration work. But some farmers and biologists in the Midwest are concerned that there are now too many wolves in their backyard.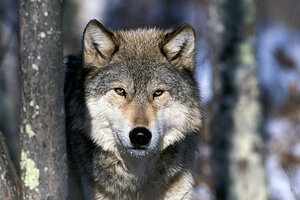 Newscom/File
For a long time Jim Heintz, an octogenarian farmer in Bruce, Wis., gave little thought to the wolves reoccupying his state. Then his calves started disappearing.
"We didn't realize what was happening," he recalls. "Then we started hearing all these wolves. People starting seeing wolves."
That was five or six years ago. He has since seen plenty of wolves himself, including one he watched last year try to drag a dead calf from his back pasture. He estimates he's lost 20 calves to wolves over the past decade.
"If I wasn't in the business I'm in, it would be kind of nice to see a wolf occasionally," says Mr. Heintz. But the cattle farmer in him shares the growing skepticism about wolves in Wisconsin. "I don't know that the wolf really has a place in farm country," he says.
The gray wolf has made an astonishing comeback in the upper Midwest. Once extirpated from all but a remote corner of northern Minnesota, wolves have flourished under the protection of the Endangered Species Act. They have expanded across half of Minnesota, a third of Wisconsin, and all of Michigan's Upper Peninsula. Today the number of wolves in the western Great Lakes region exceeds 4,000.
---