What can save Gulf's fragile coastal wetlands? Salt water, perhaps.
Saltwater marshes on the Gulf Coast are far more resilient than freshwater marshes, new research finds. The results could reframe how scientists work to stop the chronic erosion of coastal wetlands in the Gulf.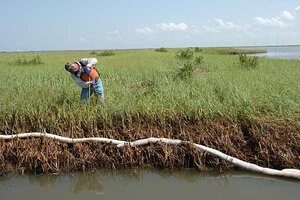 Matthew Brown/AP
Long after the effects of the Gulf oil spill subside, southern Louisiana will still face its long-term nemesis: inexorable erosion as the Mississippi Delta subsides and sea levels rise.
Now comes a fresh ingredient for buttressing some of the region's fragile coastal wetlands: Salt water.
That's the bumper-sticker implication of new research looking at the effects of 2005's hurricanes Katrina and Rita on the region's coastal marshes.
IN PICTURES: Destructive Oil Spills
The results suggest that salt marshes are far more resilient to the scouring action of storms' waves than their fresh-water counterparts. And they imply that projects to divert Mississippi River water and sediment to rebuild fresh-water marshlands in the delta may be doing more long-term harm than good.
"The introduction of fresh water to marshes as part of restoration efforts may ... weaken existing wetlands, rendering them vulnerable to hurricanes," concludes the team reporting the results in the most recent issue of Proceedings of the National Academy of Sciences.
---