New BP delay a warning: Don't write obituary on Gulf oil spill yet
The Gulf oil spill drama is about to reach its climax: the killing of the Macondo well. But a setback Friday will delay the start of the operation until Tuesday – and shows that uncertainties still loom.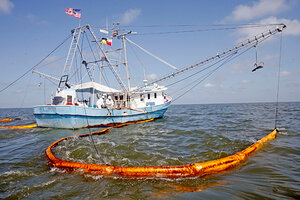 Matt Stamey/The Houma Courier/AP
The Gulf oil spill has gone from a drama that extended hundreds of miles across the Gulf of Mexico to a game of mere inches.
BP already has a checkered history in its efforts to contain the Gulf oil spill. Now, a small setback to the timeline for the final "kill" of the runaway Macondo well shows that problems – if not catastrophe – still lurk as engineers attempt to put the final squeeze on the situation.
BP found unexpected debris Friday at the bottom the primary relief well being drilled to intercept the Macondo well. The debris apparently settled in the relief well while the well was plugged in preparation for tropical storm Bonnie, and now it needs to be cleaned out.
IN PICTURES: The Gulf oil spill's impact on nature
The first phase of the multiweek operation to seal the well permanently is now expected to begin Tuesday.
"We're still engaged in this fight," says retired Coast Guard Adm. Thad Allen, President Obama's point man in the Gulf. "We should not be writing any obituary for this event until the well is sealed, the oil is gone and we know where it's gone, and state and local officials agree that beaches are clean."
---