Pipeline in Michigan oil spill had been cited for corrosion
Federal regulators had issued safety warnings about the condition of the pipeline in the Michigan oil spill that leaked nearly 1 million gallons of oil into the Kalamazoo River this week.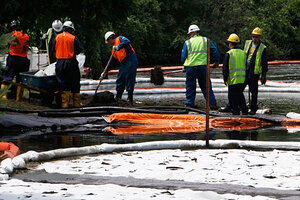 Paul Sancya/AP
The Canadian company responsible for the pipeline that spilled almost 1 million gallons of oil into the Kalamazoo River in southwest Michigan was warned seven months ago that it needed to address corrosion on the pipeline.
While it's unclear whether corrosion led to the spill, Enbridge Energy Partners LP of Calgary was told earlier this year that its pipeline no longer met federal standards.
Enbridge's pipeline ruptured Monday near Marshall, Mich., sending oil as far as 35 miles down the Kalamazoo River toward Lake Michigan. Michigan Gov. Jennifer Granholm declared a state of emergency and ordered voluntary evacuations for 61 homes. People living near the contaminated area were instructed to stop using well water for drinking and cooking.
The pipeline was used to move heavy and medium crude oil from Griffith, Ind., to Sarnia, Ontario. The US portion stretches 286 miles, crossing several state and local highways. In Michigan, the spillage area includes residential areas, farmland, and wetlands.
---