Gulf oil spill: Not as bad as we first thought?
Signs of recovery from the Gulf oil spill are already appearing, but scientists caution that many unknowns exist – including the effect of millions of gallons of oil dispersants.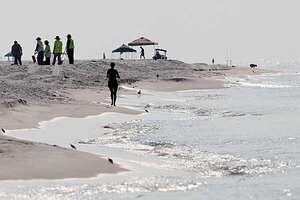 Dave Martin/AP
With oil no longer flowing from the Gulf blowout, and green shoots beginning to appear in some patches of marshland where oil from the damaged well made landfall, scientists are beginning to note a few, tiny, early signs of the environment's recovery from the disaster.
They caution that recovery will take from years to decades. Much depends on where the remaining oil and methane from the blowout lurk as they disperse and await the natural processes that break them down.
And if history is any guide, some habitats that look "restored" to the untrained eye may not support the same mix of organisms that thrived in them prior to the blowout.
IN PICTURES: The Gulf oil spill's impact on nature
Still, the federal government has opened roughly one-third of the federal waters in the Gulf it had closed to fishing. At week's end federal officials sounded a conditional all-clear for southern Florida, the Keys, and the state's east coast – a region long concerned that the Gulf's loop current would sweep surface oil into its flow and daub the state's coastal areas with crude. The condition? That the flow from the well remains stanched.
These small bits of encouraging news don't surprise scientists who have long studied the effects of oil spills, says Edward Overton, an environmental chemist and professor emeritus at Louisiana State University (LSU).
---