What GM gets from investing in hybrid startup Bright Automotive
With its $5 million investment in the Indiana startup Bright Automotive, which plans to build a plug-in hybrid delivery truck, GM potentially gains access to new technology and maybe a new product.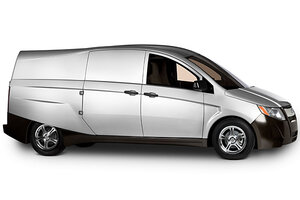 Bright Automotive/PRNewsFoto/File
GM Ventures, the investment arm of General Motors, announced Tuesday that it would invest $5 million in Bright Automotive, an Indiana startup developing a cutting-edge plug-in hybrid delivery van.
While the amount is modest, the GM investment gives the Detroit giant a "strategic relationship" and inside track on new technology that it might be able to use to expand its electrified vehicle fleet a few years from now.
For Bright, which had hoped to begin manufacturing its IDEA van by 2012, the cash infusion is certainly important – but perhaps not as critical as GM's endorsement of its technology, auto industry analysts say. It could help persuade other investors – including the US Department of Energy – to take the plunge with some funding, too.
"With this deal, Bright gets financial support that puts us on the fast-track toward mass production of the IDEA," Reuben Munger, Bright Automotive chairman and CEO said in a statement. "Perhaps just as importantly, we gain a strategic partner that is a world leader in electrification."
Only last week, GM formally put a $41,000 price tag on its new electric Chevrolet Volt and began taking orders. It has said it wants to take the Volt technology and put it into vehicles across its product line. It is leading in the vehicle electrification trend – but will face a host of competitors a few years from now. Ford, for instance, is known to be developing an all-electric delivery vehicle – and the relationship with Bright might lead to technology sharing or even sales of Bright-designed vehicles down the road.
---