Gulf oil spill not 'gone' -- close to half may still lurk in Gulf
A White House adviser said Wednesday that the 'vast majority' of the Gulf oil spill is gone. But a summary of the report she cited leaves some questions unanswered.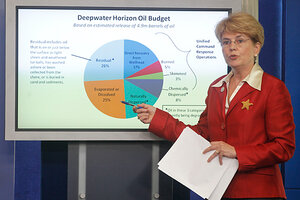 Charles Dharapak/AP
The public summary of a new federal report on the fate of the oil that poured into the Gulf of Mexico following the Deepwater Horizon explosion and blowout suggests that close to half the oil from the disaster may still lurk in some form in the ocean, sand, and sediment.
Earlier today, President Obama's environmental adviser, Carol Browner, told NBC's "Today Show" that "the vast majority of the oil is gone. It was captured. It was burned. It was skimmed. It was contained. And mother nature did her part" through bacteria breaking down oil.
But the "vast majority" includes dispersed oil. The summary released Wednesday does not make clear the rate at which bacteria are degrading that oil. Researchers are still trying to assess this process – especially in the deep ocean, where much of the remaining oil is thought to be.
According to the five-page federal estimates, some 25 percent of the oil was recovered, burned, or skimmed. Another 25 percent evaporated or dissolved.
Meanwhile, 24 percent remains dispersed in the water, while another 26 percent falls into a catch-all "residual" category.
---