Revised 2010 hurricane forecast: 'major hurricanes' ahead
A revised 2010 hurricane forecast is in from the National Weather Service, and the agency is predicting another strong year for tropical storms. Four to six 'major hurricanes' are expected out of 14 to 20 named storms.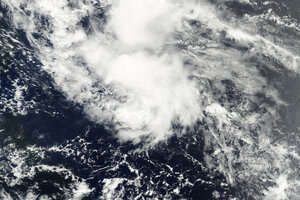 NASA/AP
The 2010 hurricane season in the Atlantic, now heading into its most active three month stretch, stands a strong chance of becoming the 11th above-normal season in the past 15 years, according to federal forecasters.
June and July were less active than the National Weather Service's Climate Prediction Center expected them to be when it issued its initial seasonal forecast in May, notes Gerry Bell, who heads the effort.
But conditions in the Atlantic's main hurricane-forming region are ripe enough to suggest the season's typical August-to-October peak will be very active. The CPC says there is a 70 percent chance that the season will log 14 to 20 named storms, eight to 10 hurricanes, and four to six major hurricanes -- storms of Category 3 or higher, with top sustained winds in excess of 111 miles an hour.
The updated seasonal outlook is similar to the prediction the CPC released in May, with two to three storms shaved from the high end of its ranges to account for hurricane Alex, as well as tropical storms Bonnie and Colin.
---