Horrible fungus driving bug-loving brown bats to extinction
Tiny brown bats are in danger of going extinct in the Northeast, with a white nose fungus blamed for killing millions of the animals.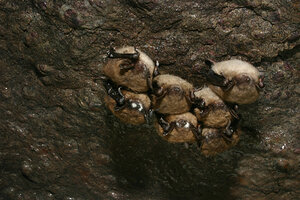 Alan Hicks/Science/AP
A small, hibernating brown bat with a big appetite for bugs – including farm pests and mosquitoes – is in danger of going extinct in the American Northeast.
Scientists say that a fungus is to blame for killing the bats and could wipe out the population within 16 years unless ways can be found to control the fungus.
That's the conclusion a team of biologists has reached after calculating the potential effects on the bat population of a significant die-off that has emerged in the four years since the fungus was first spotted.
A recreational caver captured the first images of the telltale whitened bats' noses in Howe Caverns, a popular tourist destination 34 miles west of Albany, N.Y. Since then, the fungus associated with "white-nose syndrome" has been detected among bats in at least 115 locations from Ontario to Tennessee where the creatures hibernate for the winter.
Faint rays of hope are appearing on the horizon for at least buying time for the little brown myotis bat. But for now, the prospect of decimation looms large.
Although the study, published in today's issue of the journal Science, involves only one species of bat, biologists have detected the fungus in nine species, says Thomas Kunz, who heads the Bat Lab at Boston University's Center for Ecology and Conservation Biology.
---