Michigan hails judge's move in Asian carp fight against Chicago
A judge on Monday scheduled hearings in an Asian carp case for September – a move that will allow five Midwestern states to call on expert testimony. The five states are seeking to close two Chicago canals in a bid to stop Asian carp from entering the Great Lakes.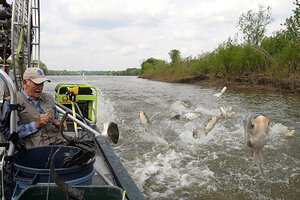 Chris Young/The State Journal-Register/AP/file
The five Midwestern states suing to keep Asian carp – the behemoths that gorge on plankton and leap 10 feet in the air – out of the Great Lakes claimed to score a legal victory Monday.
On Monday, a federal judge held an initial hearing and scheduled more hearings for expert testimony in early September. The Michigan attorney general's office heralded the decision, since it will be the first time the case is heard on its merits. The Supreme Court earlier this year declined to take up the case.
The goal of the lawsuit is to force Chicago to shut down two locks except in cases of emergency, preventing Asian carp from using the canals to reach the Great Lakes. That plan has met with with fierce resistance from barge and tour boat operators.
But with carp DNA showing up near Lake Michigan and a bighead carp found in June just six miles from the lake – and beyond the electronic barrier that is supposed to keep it out – a number of groups are calling for drastic action before the fish can infiltrate the Great Lakes with potentially dire consequences.
"We have here a carp highway," Robert Reichel, Michigan assistant attorney general, told the judge in the hearing.
Where are the carp now?
---