California set to ban plastic bags
Plastic bags from grocery stores and pharmacies would be banned starting in 2012 under a new bill before the senate. Critics of the bill say recycling programs, not bans, are the answer.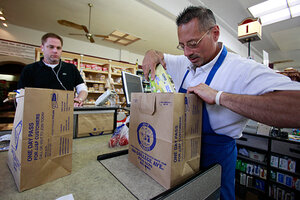 Paul Sakuma/AP
In a move experts say could domino across the country, California is poised to become the first state to ban single-use plastic bags. Approved by the state assembly in June, a bill to that effect is due before the senate on Tuesday, and Gov. Arnold Schwarzenegger has said he will sign it if he receives it.
The bill, which would ban single-use plastic bags in grocery stores and pharmacies beginning in 2012, and in liquor stores and convenience stores in 2013, has met widespread acceptance, but is not without detractors.
Environmental groups are strongly in favor of the measure because of the growth of the "great Pacific garbage patch," a mass of non-degradable plastic trash floating about 1,000 miles off the coast of California which is said to be twice the size of Texas. California's 38 million people use an estimated 19 billion bags a year.
"This bill represents our best opportunity to virtually eliminate the plastic bag pollution that plagues our communities, waterways and beaches," says Bill Magavern, Director of Sierra Club California.
The senate vote will be a close one, says Mr. Magavern. "The opposition [is] frenzied," he says, "because they know a win in California would be replicated elsewhere."
---