IPCC climate change panel needs transparency, review panel finds
The IPCC climate change advisory panel, stung by criticism that it ignored dissenting views, underwent an independent review of its management. Observers have called the report 'remarkably hard-hitting.'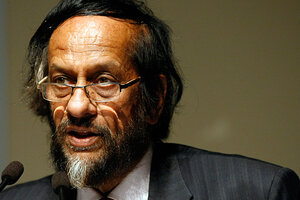 Denis Balibouse/Reuters/File
The Intergovernmental Panel on Climate Change, set up 22 years ago to provide science advice to governments as they try to deal with global warming, needs to overhaul the way it runs itself, according to a report released Monday.
Among those needs: more transparency; a rigorous set of conflict-of-interest rules; wider representation of dissenting views among practicing climate scientists in its final reports; and a limit on the number of reports scientists can take a lead role in producing.
The review and its recommendations come from a panel made up of 12 experts from 10 countries. The members were selected by the InterAcademy Council, an organization representing 15 national academies of science in developed and developing countries.
The review panel, assembled in May at the request of UN Secretary-General Ban Ki-Moon and IPCC Chairman Rajendra Pachauri, did not address the science of global warming itself. Instead, it focused on management issues raised in controversies that erupted during and after the IPCC issued it last set of climate reports in 2007.
---